See Turin: What to Do, See and Eat in Turin, Italy?
by Chris Atwood
Travel to Turin – Chic cafés. Stylish boulevards. Marvelous museums. You're not in Paris, but in Turin—one of Italy's most sophisticated
(and
under-the-radar) cities. Called Torino in Italian, Turin is located in the scenic Italian region of Piedmont. It vaunts some of Italy's finest vineyards and is the birthplace of the
Slow Food movement
. So, what's there to do in Turin, Italy?
Unlike cities such as Florence
and
Venice
, which rose to glory in the middle ages and Renaissance, Turin feels decidedly more modern. It boasts a rational grid of streets and numerous examples of Art Deco and Art Nouveau architecture. Turin was, in fact, the first capital of unified Italy
(1861-1864).
Seated at the feet of the Italian Alps and crisscrossed by Italy's longest river
(the
Po), Turin offers an air of regal grandeur alongside vibrant contemporary culture.
Virtually unknown outside of Italy, Turin merits a day trip or longer detour if you're going to Northern Italy. Beyond its lush parks and regal
palazzi
, Turin is the perfect jumping-off point for exploring the nearby wine country
(Le
Langhe, Monferrato, Alba) or for a leisurely day by picture-perfect Lake Orta
.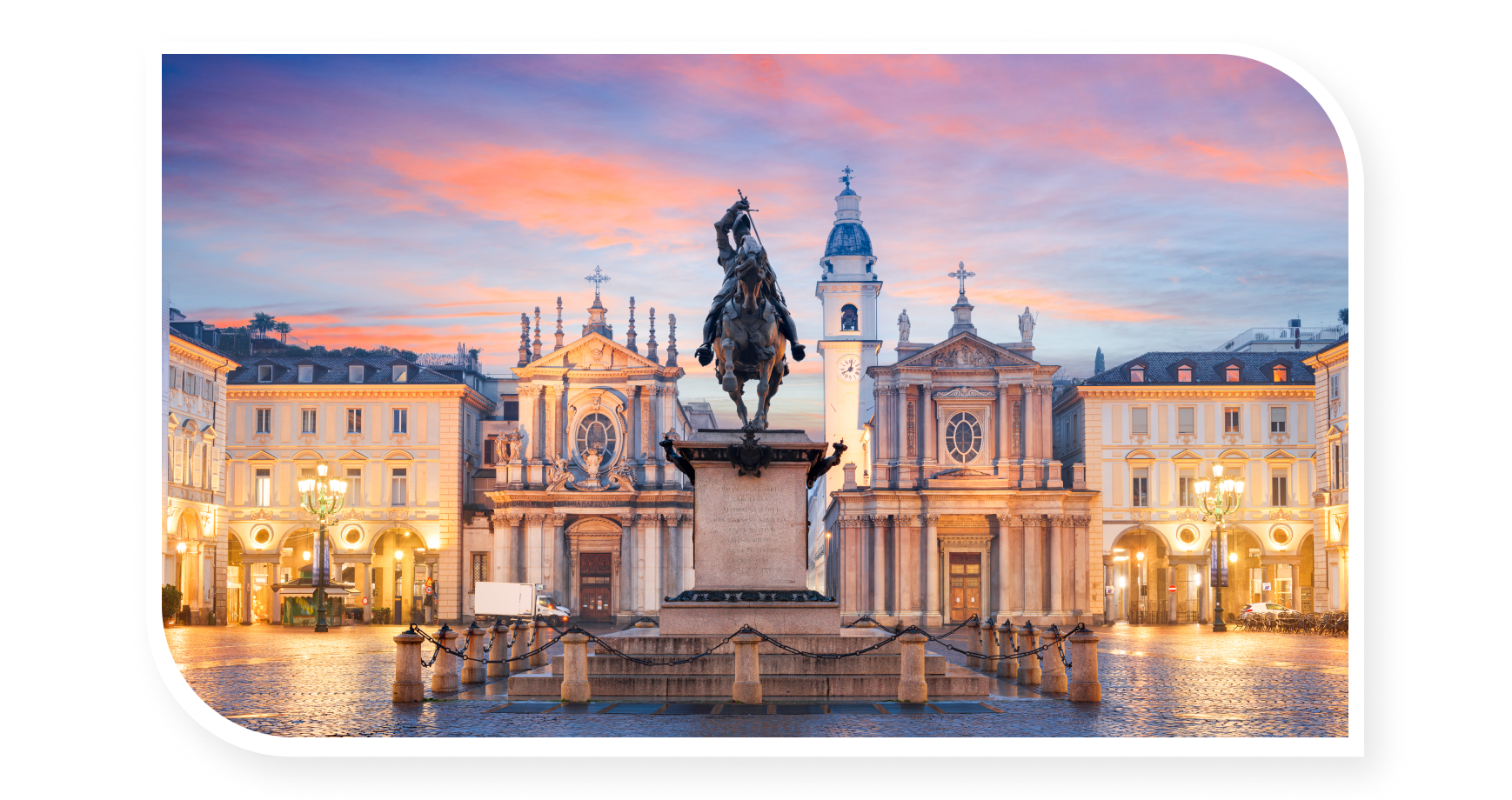 Tour Italy's Royal Palace
While Rome was the center of an ancient empire, Turin is Italy's only royal city. For centuries, Turin served as the House of Savoy's seat–a monarchy encompassing Piedmont, Genoa, and Sardinia. During the 19th century
, under the leadership of Vittorio Emanuele II, Italy finally unified under one flag—ruled by the King of Savoy. The House of Savoy erected 14 royal abodes in Piedmont – spanning hunting lodges, Baroque palaces, and country estates.
In Turin proper, exploring the opulent
Royal Palace
(
Palazzo
Reale di Torino
) is possible. Initially built in the 1500s, the palace was modernized during the Baroque period. The grand palace boasts manicured gardens, sumptuous halls, marble columns, art-cloaked galleries, and the Chapel of the Holy Shroud—housing the famous
Shroud of Turin
.  
Imbibe a "Bicerin"
Ask any Italian what to drink in Turin, and you'll get one of two replies – 1) Piedmont's outstanding wines
(i.e.,
Barolo) or 2)
bicerin
(pronounced
bee-che-reen). The
bicerin
is Turin's signature hot drink – an oh-so-addictive blend of espresso, thick hot chocolate, and frothed milk. Remarked upon since the 18th century
, the
bicerin
is notable for the elegant layering of each of the three ingredients. In Piazza della Consolata, you can imbibe one at
Caffè al Bicerin
—a historic coffee shop whipping this beloved beverage since 1763! Local legend says the delectable drink was first invented here.
Go Back in Time at the Egyptian Museum
Curiously enough, Italy is home to one of the world's largest collections of Ancient Egyptian art. The larger one is only in Cairo, Egypt! Founded in 1824, during the height of Egyptian mania in Europe, Turin's
Egyptian Museum
is dedicated exclusively to Egyptian relics – vaunting over 30,000 artifacts. Objects from ancient egypt on display here include sarcophagi, mummies, simple tools, papyrus scrolls, and ornate jewels. Nearly 800,000 visitors uncover the past here each year.
Lunch in the First Eataly
Italy's Piedmont region is the birthplace of the Slow Food movement. Importantly, this movement is a global effort to sustain local food traditions while combating the rise in unhealthy, fast foods. One of the symbols of this movement is Eataly
– a sprawling emporium of Italian food, including fresh-prepared pasta, regional products, and locally-sourced cheeses. The first Eataly opened inside an old Vermouth Factory in Turin in January 2007. Since then, Eataly has expanded its temples of tastiness across the globe—including cities like New York, Chicago, Seoul, Bologna
, Moscow, and Istanbul.
Explore Piazza Castello
Cafes, palaces, and museums pepper Turin's main square, the Piazza del Castello. This square's current iteration was built between the 16
th
and 18
th
centuries in the regal heart of the historic city. Here you can eye Palazzo Madama, the first parliament in modern Italy, or the elegant façade of the Royal Palace. If you're craving a breath of fresh air, you can saunter like the Savoys in the
Giardini Reali
– the royal gardens, now a city park
. 
Taste Tajarin & Truffles
Tajarin
is to Turin, as pizza is to Naples. Any visit to Piedmont is incomplete without a taste of the local pasta—
tajarin
(pronounced
tai-ya-reen). This bright yellow pasta is the Piedmontese take on
tagliatelle, another popular italian dish
. Some cooks use up to 40 yolks per kilo of pasta dough—creating supple, soft noodles you'll swoon for. Prepared fresh daily,
tajarin
is often crowned in another of the region's prized food products:
tartufo
or shaved wild truffles. For an authentic forkful of this egg pasta, hungry diners can head to  Osteria al Crinet
, a charming family-run restaurant.
View The Mole Antonelliana
The
Mole Antonelliana is Turin's most iconic building
– so much so that an image of it is found on Italy's 2-cent euro coin! Designed by architect Alessandro Antonelli, the
mole
is a monumental building capped with a panoramic dome and needle-like tower. Built between 1863 and 1888, the
mole
was – at its completion – the tallest brick building in Europe—rising 167 meters above Turin's cityscape. Visitors can take an elevator to the dome's panoramic terrace or climb on foot to this stunning vista point.
Say "Salute" in a Wine Shop
If you're a lover of wine, you'll have
nulla
(nothing)
to whine about in Turin. Surrounded by vineyard-rich plains and grape-draped hills, Turin abounds in
enoteche
—small shops specializing in wines.
Wine aficionados run these boutiques. They carry small-batch bottles you won't find in the US or in larger grocery stores in Italy. One of the oldest in the city is
Parola
, which opened in 1890.
Enoteca
Ferrero
,
in business since 1932, has been run by the same family for three generations. And
Casa del Barolo
boasts over 1,000 wines and spirits—including its namesake, the prized
Barolo
reds. If you travel to Turin, you must enjoy a bottle from an enoteche!
Taste Nutella's Ancestor
Do you have a sweet tooth? Turin is for you, then—being Italy's chocolate capital. Turin's love affair with cacao goes back hundreds of years. At that time, chocolate was first introduced to the city by a Spanish-born duchess.
Boutique chocolatiers
abound in the city center, allowing you to enjoy nibs and nibbles from cocoa confectioners. One must-try sweet here is
gianduja –
traditional dark chocolate mixed with hazelnuts from Alba. Inspired by
gianduiotto,
Turin resident Pietro Ferrero invented spreadable chocolate in 1946—later rebranded as, you guessed it, Nutella!
Watch Soccer at the Juventus Stadium
The
Juventus
team is one of Italy's premier
calcio
(soccer)
powerhouses. Their home field – often called
lo stadio
or
"the
stadium" in Italian – is found in the Vallette borough of Turin. It opened in 2011 and can seat 41,000+ spectators in a given game.
Soccer fans can enjoy a guided tour of the stadium here—including the locker rooms, facilities, and the
Juventus Museum
.
With advance notice, it's also possible to view a home game here as throngs of chanting
Juventus
fans cheer Turin's home team on.
Start to Feel Like a Local
It is easy to fall in love with the Piedmontese capital's beauty and its surroundings' gourmet excellence. Turin is a city with endless opportunities for exploration and discovery. At every corner of this majestic place, you can discover some treasures. So next time you find yourself with time to travel to Turin and in this beautiful corner of Italy, keep your eyes peeled for the secret gems we mentioned! And who knows? As you follow our advice, you'll feel like a local.
---
Like this one, when you work with us to travel Italy with your family!
Go back